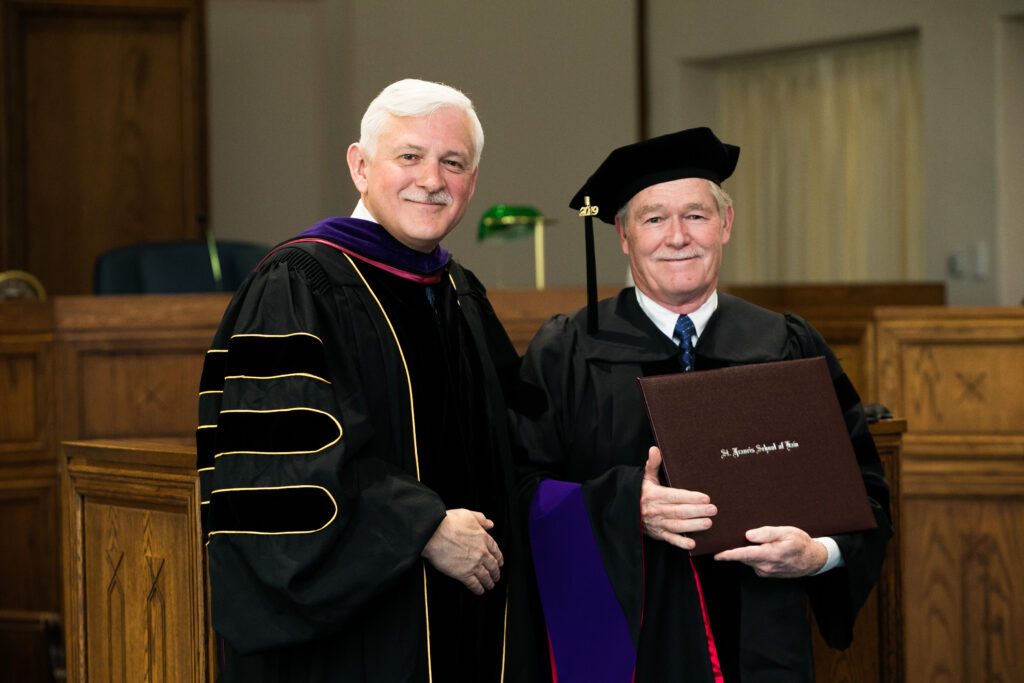 When Tim Crough, a rural Californian undergraduate majoring in engineering, completed his business law course, he found himself captivated and inspired. However, it would take him 45 years to pursue his dream of practicing law. In this interview, we sit down with Tim to discuss what motivated him to embark on this new journey at the age of 60, how he excelled in law school, and how his engineering background complements his legal work.
A Candid Conversation with Tim Crough, Class of 2019 at St. Francis School of Law
What aspect of law caught your attention the most?
The business law class provided me with a solid foundation for understanding the legal system and finding practical solutions to disputes. It offered me a glimpse into the world of law and its potential for making a positive impact.
Throughout my 40-year career as a civil engineer, I always had a desire to attend law school. Many aspects of my engineering work, such as contract negotiations, overlapped with the legal field. Pursuing law later in life helped me establish the connections between these two disciplines.
How did you decide on St. Francis School of Law?
I explored several online law school programs, but St. Francis stood out among the rest. Its unique curriculum attracted me, especially considering my age and imminent retirement. The six-week-long courses allowed me to balance work and studies, dedicating around 30 hours per week to school and 50 hours to my engineering job. Once I retired, I could fully dedicate my time to my legal career.
Transitioning to online learning was the most significant challenge for me. I had never experienced anything like it before, and I was initially apprehensive. While I applied to other online law schools, I'm grateful I chose St. Francis. The format of one class at a time, spread over six weeks, proved to be manageable. Juggling multiple classes simultaneously, alongside my career, would have been far more difficult. Surprisingly, the four-year program was more manageable than my undergraduate studies.
When did you graduate?
I graduated in April 2019, achieving the distinction of magna cum laude. Afterward, it took me a couple of years to prepare for and complete the bar exam, which I accomplished in November 2021.
Where did you begin your legal career?
Upon retiring from engineering, I was selective in choosing my first law firm. I didn't want to start as a clerk, spending long hours filing in the basement. It simply wasn't the right fit for me. Therefore, I submitted job applications to only two firms, which happened to be quite similar. Fortunately, I was offered a position at Colantuono, Highsmith & Whatley, PC, in Grass Valley, California, within a few months of passing the bar. My 40 years of experience in municipal water systems aligned perfectly with the firm's expertise in municipal law.
How did studying online contribute to your preparedness for remote work?
Earning my JD online equipped me with the necessary skills to adapt to remote work. If I had graduated ten years ago, I don't think I would have been prepared to work in a hybrid environment. It's likely that I would have obtained my degree and moved on. However, now I'm genuinely interested in gaining practical experience and sharing my knowledge, eager to see where this journey takes me.
How did returning to school impact your family and social life?
We reside on a lake in Northern California and have a close-knit social group. Many neighbors were disappointed during the five years I spent focused on my studies and preparing for the bar. Unfortunately, I couldn't be as socially active as my wife. However, this was not a significant issue, and we celebrated together with a big party once I completed my journey.
Which St. Francis courses had the most significant impact?
The constitutional law course, in particular, proved to be highly relevant as it coincided with major constitutional events occurring in the news. St. Francis places great emphasis on constitutional law, which was a valuable aspect of the curriculum.
How would you describe your experience with St. Francis professors and staff?
During my bar review courses, the students created a strong bond, and our professor played a vital role in guiding us through the process. We prepared for the Baby Bar, the first-year law school exam that must be passed before continuing the program. St. Francis has an excellent pass rate for this exam, and the support we received from the institution, including instructors, the dean, professors, and staff, was truly remarkable. It has been an immensely rewarding experience.
Were there any unexpected obstacles you encountered?
Throughout my education, I never took a typing class. As an engineer in the '70s and '80s, I would dictate lengthy reports that secretaries would type up. Consequently, when it came to the bar exam, which heavily relies on typing skills, I struggled. It felt like a typing competition at times.
What are some skills you acquired at St. Francis that you continue to utilize today?
One of my professors affectionately referred to me as Mr. Perseverance. It's less of a skill and more of an attitude. This mentality was cultivated during my time at St. Francis. Students are encouraged to teach one another, fostering an environment of open communication and collaborative learning. We would provide feedback on each other's work and learn from one another. I formed incredible personal connections despite being behind a computer screen.
What advice would you give to older individuals considering enrolling in law school?
Completing law school will take four years, and you will be four years older by the end of it. Therefore, it's crucial to assess your aspirations and where you want to be in the future. When I started law school, I knew I would be 64 upon graduation. I had to decide whether I wanted to embark on an entirely new career or simply retire and embrace a more relaxed lifestyle. I chose law school as a way to both stimulate my mind and have more clarity of thought. Surprisingly, I find myself more physically fit than I was 20 years ago.
What advice do you have for young students fresh out of undergrad?
Remain curious and absorb as much knowledge as possible. Learn from your fellow students and embrace the opportunities for growth. I am incredibly grateful for my decision to attend St. Francis. It felt like the perfect school for someone seeking to supplement their existing career with legal knowledge. It's the icing on the cake for me in my later years. It's fulfilling to say that I obtained a JD degree.
Learn More About St. Francis
To explore the St. Francis School of Law's online JD program and determine if it's the right fit for you, visit Garrity Traina.