Betty Gore's tragic demise serves as a cautionary tale about the true nature of friendship. While this case initially seemed straightforward, there were still lingering questions. Was it a case of "self-defense" or an example of how to get away with murder?
Despite the existence of substantial evidence, witnesses, and the brutality of 41 wounds, the case remains shrouded in ambiguity. It leaves us pondering, "Is it really that simple to persuade others to believe whatever we say?"
Enter Don Crowder, the attorney who turned the tide and fought back like a force of nature. Who is this legal maestro that orchestrated a surprising defense for Candace? Let's find out.
Who Is Don Crowder?
Don Crowder, originally focused on civil cases, established his own firm, Crowder & Mattox, with his partner Jim Mattox. However, his desire to become a top-notch lawyer led him to take on challenging criminal cases. Fate knocked on his door when he met Candace Montgomery through their church, seeking legal representation while under investigation by the police.
This marked Crowder's first foray into criminal law, and he was determined to bring his A-game. During the intense eight-day trial, he presented a defense that left everyone astounded. Despite the presence of 41 stab wounds inflicted with a 3-foot axe, he managed to convince people that Candy had fought back in self-defense, desperately trying to preserve her own life.
Crowder went further, arguing that Candy experienced a dissociative episode, driven by past traumas that triggered her aggressive response towards her attacker. In the chaos, she lost count of the number of times she stabbed her friend, convinced that it was necessary to protect herself from harm.
Additionally, he manipulated the media by strategically disseminating misleading information, crafting a positive public image for Candy. He also utilized the "Stand Your Ground" Texan law, which allows the use of force to prevent violent crime.
Thanks to his prowess, Crowder successfully swayed the jury, comprising three men and nine women, leading to Candace's acquittal. This victorious case propelled him to tackle numerous other legal battles. In 1986, he even ran for governor of Texas, garnering over 118,530 votes. Unfortunately, victory eluded him in the end.
By 1991, his business venture, Gameday Sports Cafe, faced significant losses and failed to establish itself in the market.
Where Is Don Crowder Now? Why Did Don Crowder Take His Own Life?
Content Warning: This section contains mentions of suicide and substance abuse.
Don Crowder encountered several struggles tied to his ambitions, which had adverse effects on his mental health. However, the final blow came with the tragic car accident that claimed the life of his brother, Barry, on August 15, 1997. This event triggered a downward spiral, leading Crowder to turn to alcohol and cocaine as coping mechanisms.
Shortly before his 56th birthday, on October 25, 1998, Crowder attempted to end his own life. Miraculously, he survived the ordeal. In an interview with the McKinney Courier-Gazette, he reflected on his first case as the potential pinnacle of an extraordinarily successful career or the catalyst for his downfall.
Crowder also admitted that the faces of Gore's family continued to haunt him, leaving a profound impact on his mental well-being. On November 10, 1998, after years of struggling with mental illness and substance abuse, he tragically took his own life.
Who Was the Judge in Candy's Case?
District Judge Tom Ryan presided over Candy's case. However, Crowder's unconventional rapport with the judge resulted in him being arrested and held in contempt of court for four days. Due to his erratic behavior, he acquired the nickname "Crazy Crowder."
Where Is Candace Montgomery Now?
Following the eight-day trial, Candace Montgomery walked away a free woman. She later divorced her husband and changed her name to Candace Wheeler. Currently, she resides in Georgia, working as a mental health counselor.
Several adaptations have been made of this gripping true crime story:
"Evidence of Love" by Jim Atkinson.
Hulu's series, "Candy," featuring Jessica Biel in the titular role and Rafael Barba as Crowder.
HBO Max's miniseries, "Love and Death," starring Elizabeth Olsen as Candy and Tom Pelphrey as Crowder. The series was released on April 27.
Twitter is abuzz with reactions to Don Crowder, who undoubtedly stole the show.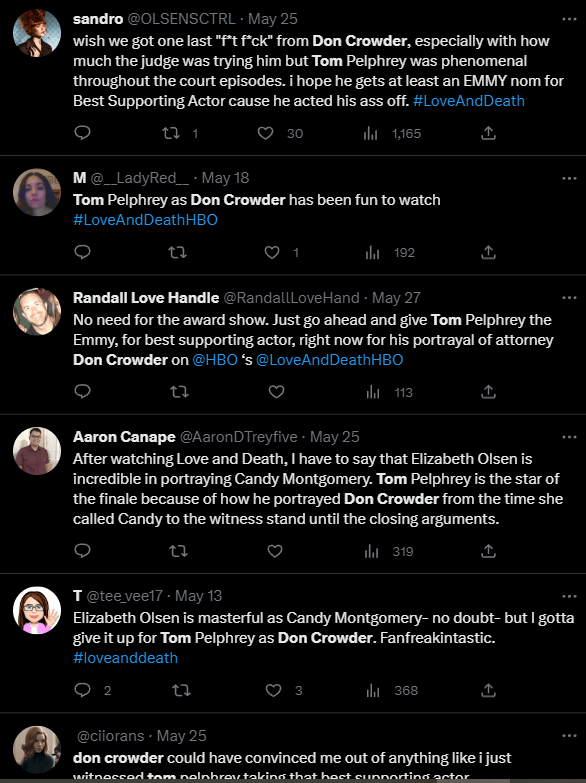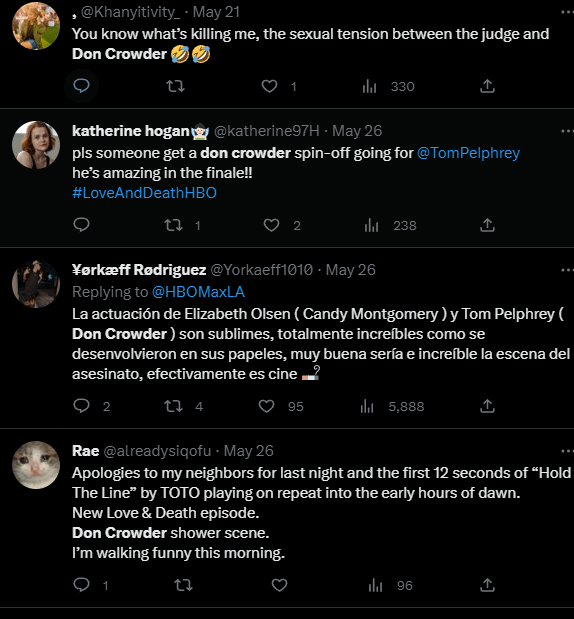 Do you believe in Candy's innocence? What are your thoughts on Don Crowder?
Let us know your perspective in the comments section below.