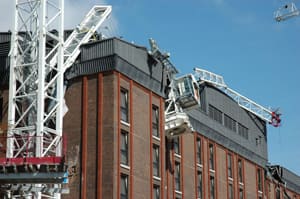 Cranes are not only the largest and heaviest equipment found at construction sites but also the most perilous. Their capability to lift heavy loads, swing them in any direction, and raise them high overhead is crucial for construction jobs, but it also poses significant dangers to crane operators, dock workers, and nearby construction workers. Even a minor misstep when operating a crane can result in serious injury or even death.
At Garrity Traina, we recognize the tremendous emotional and financial burdens that a crane accident can place on both the injured workers and their loved ones. Medical expenses can pile up rapidly, leaving accident victims and their families to shoulder the responsibility of arranging medical care, physical therapy appointments, and managing the financial aspects all at once.
If you or a loved one has suffered a crane injury due to a construction accident, it is crucial to seek legal representation from a personal injury lawyer who can skillfully navigate your case. At Garrity Traina, our personal injury attorneys are here to offer you a free consultation and a comprehensive case review.
Common Causes of Crane Accidents
The construction industry is inherently hazardous, and to ensure safety on construction sites, the Occupational Safety and Health Act (OSHA) has established standards. Unfortunately, many construction companies cut corners and fail to comply with these standards. Consequently, the failure to adhere to these safety regulations can lead to severe injuries or fatalities.
Some violations of crane safety standards include:
Improper crane setup and subsequent collapse.
Failure to select the appropriate crane for the job.
Ignorance of the crane's operational limits.
Usage of the crane beyond the manufacturer's specifications.
Neglecting to clear the area around the crane operation.
Accidental contact with power lines, resulting in electrocution.
Non-compliance with OSHA standards can directly lead to crane-related accidents and serious injuries. If you believe your OSHA rights are being violated, you have the right to raise your concerns without the fear of retaliation. A personal injury lawyer can assist you in protecting your rights and pursuing fair compensation.
Common Work Injuries Caused by Crane Accidents
Victims of crane accidents suffer from a wide range of catastrophic injuries. Some of the most prevalent crane accident injuries include:
Traumatic Brain Injuries: Uncontrolled hoisted loads can strike nearby construction workers on the head, causing significant brain trauma.
Spinal Cord Injuries: Crane accidents, such as falling out of the crane's cab or getting caught in the moving mechanisms, often lead to spinal cord injuries.
Electrocution: If a crane makes contact or collides with live power lines, the metal boom can act as a conduit for electricity, resulting in electrocution.
If you or a loved one has been a victim of a crane accident, it is crucial to consult with an experienced crane accident lawyer to discuss your injury case.
How a Crane Accident Lawyer Can Assist You
Many injured construction workers mistakenly believe that they cannot file a legal claim against a negligent party because they have already filed a workers' compensation claim with their employer. However, workers' compensation only prevents you from suing your employer. If your injury was caused by a negligent third party, such as a manufacturer or property owner, that party can be held liable for your injuries.
Unfortunately, workers' compensation benefits are often insufficient to alleviate the financial burden caused by your injury and accumulated medical bills. Therefore, it is vital to contact experienced construction accident lawyers to determine if third-party liability applies to your injury claim and to understand your legal options. Think of it this way: If you were injured in a car accident, truck accident, slip and fall accident, etc., you would be able to pursue a personal injury claim against the responsible party. The same principle applies to crane accidents, where you may be entitled to bring a third-party negligence claim against the person or entity responsible for your injuries.
Contact Garrity Traina for a Free Case Evaluation and Consultation
If you or a loved one has been involved in a crane accident resulting in injury, you deserve financial compensation. Seeking appropriate legal counsel will ensure that your rights are explained to you and that you receive the necessary medical care promptly and at a reasonable cost.
A skilled attorney at Garrity Traina will advocate on your behalf to secure the maximum compensation permitted for your injuries, as you may need to cover additional expenses such as out-of-pocket medical costs and nursing care. Many cases can be resolved without going to trial, but having an attorney on your side ensures that you are well-prepared for any courtroom battles. Familiarity with your case enables an attorney to diligently present your case in court, increasing the chances of a successful outcome.
The attorneys at Garrity Traina have the experience and expertise necessary to handle your crane accident case. You can reach a crane accident attorney at Garrity Traina by submitting a free case evaluation online at Garrity Traina or by calling our phone number, 1-888-651-4380. We offer a free consultation, and we work on a contingency fee basis, which means there are no legal fees unless we successfully obtain compensation for you.
Some lawsuits must be filed before the Statute of Limitations expires. To ensure that you do not waive your rights to money damages or other benefits, call or contact us immediately.
It is impossible to determine the value of any wrongful death or personal injury case without knowing the details of the injuries and how the accident occurred. Call a real person today for real-time assistance at one of our law offices in New York, New Jersey, or Pennsylvania. Our Manhattan office serves all five boroughs of New York City.