Becoming a certified specialist in real estate probate can set you apart from the competition and open up new opportunities for leads and customers. In the highly competitive field of real estate, it's crucial to carve out a niche for yourself to thrive. While it's essential to eventually expand your expertise, starting with a specialized focus can provide a solid foundation.
If you've been exploring different niches in real estate, you may have come across the option to become a probate realtor. You might be wondering about the available training and certifications in this market. In this article, we will delve into the probate training and Certified Probate Real Estate Specialist (CPRES) designation offered by MTI Education and the US Probate Service. We will discuss the pros and cons of these programs, evaluate the certification's worth and accreditation, and provide you with a framework for determining if this program aligns with your goals.
Pros of MTI Education Probate Certification
When I began my journey in probate, I felt overwhelmed and lost in the sea of information and processes. The probate system can be complex and confusing, especially for those without prior experience in navigating it. Perhaps you've only encountered the probate process when dealing with the passing of a loved one, where an attorney handled everything, leaving you with a vague understanding of the logistics involved.
Recognizing the need for guidance, it's crucial to find a reliable source of knowledge. Let's explore the different options available for learning the probate process and how to excel as a probate real estate agent.
Bundled Content Format
When it comes to learning how to be a successful probate real estate agent, you have a few options. First, you can seek mentorship from an experienced probate agent and learn directly from their expertise. However, finding a probate real estate agent to mentor you can be challenging. It's unlikely that someone in your office specializes in probate leads.
Alternatively, you can rely on online resources, such as "How to find probate leads" or "How to market to probate leads." While this DIY approach is viable, it requires significant effort on your part to sift through vast amounts of data and articles to find the relevant information needed to kickstart your probate career.
Another option is to opt for a program that offers structured and comprehensive content in one place. This is where MTI Education's probate certification comes in. They promise to certify you as a probate real estate specialist and provide training on marketing to probate leads, finding probate customers, and more.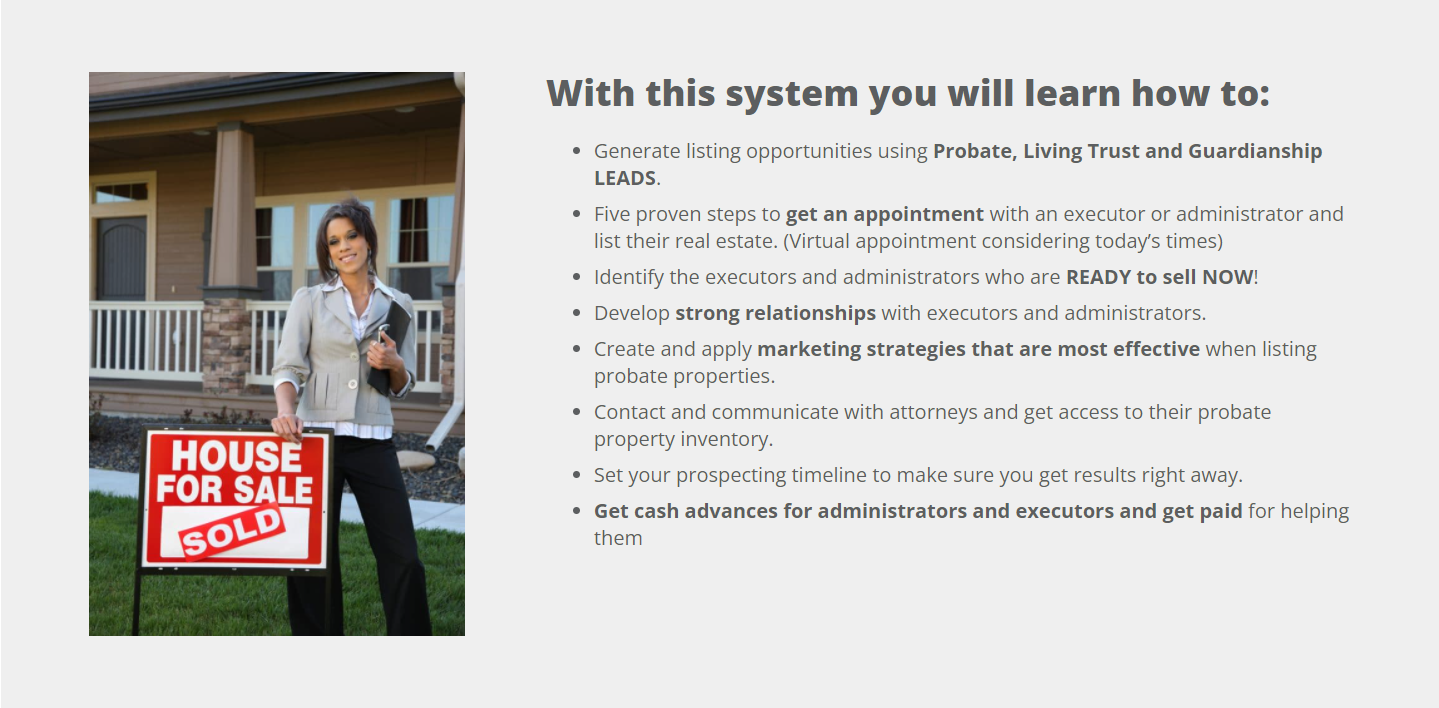 This bundled, user-friendly format saves you time and grants you convenient access to the necessary information. You can gather similar insights from podcasts like AllTheLeads, but MTI Education's program offers a streamlined learning experience.
Learn to Generate Leads
What sets MTI Education's probate certification course apart is its focus on lead generation, setting appointments, and marketing perspective. The majority of the course content concentrates on how to generate more leads, secure more listings, and increase sales. This emphasis on marketing and lead generation is evident in the positive reviews they receive.

These reviews highlight the impact on sales, business growth, and the use of marketing tools. While understanding the technical aspects of the probate process is essential, it's insufficient for becoming a top-performing real estate agent. Personal experiences and licensing exams often fail to equip agents with the marketing skills necessary for success.
No matter how well-versed you are in fair housing regulations, disclosure laws, or property values, your knowledge is futile if you struggle to generate leads and attract clients. Therefore, probate training with a strong focus on lead generation is vital. Technical knowledge alone is useless without a robust marketing strategy.
A comprehensive program that prioritizes marketing, like MTI Education's Probate Real Estate Specialist course, can be the key to investing in your professional development.
It's Not Certified by NAR
It is important to note that MTI's probate certification is not accredited by the National Association of Realtors (NAR). NAR only certifies courses that they develop themselves. While this may not be a significant factor for everyone, it's worth considering.
Without third-party accreditation, the certification's value may be debatable. It might simply be a logo without any substantial scrutiny or standards behind it. Consequently, it would be unwise to regard the probate real estate specialist certification on the same level as designations certified by NAR, such as the Pricing Strategy Advisor certification.
Perception versus Reality in Probate
Despite lacking NAR certification, the probate real estate specialist certification can still have value for your reputation and resume. Websites like HomeLight recommend working with a certified probate real estate specialist. This endorsement from reputable sources indicates that clients may have preconceived notions about the certifications you should possess when handling probate sales.

These expectations have been fostered by lead generation websites like Homelight, which indoctrinate users to seek probate-certified agents. While the exact percentage of clients who expect this certification is uncertain, it is safe to assume that a proportion of probate leads acquired through websites like Homelight anticipate dealing exclusively with probate certified agents.
Probate Training Isn't State-Specific
MTI Education's probate certification is not tailored to specific states. Consequently, it cannot be offered as a real estate continuing education credit due to the lack of state specificity. As probate laws differ between states and even counties, you may find the course content irrelevant or different from your local regulations.
It is crucial to remember that probate laws are state-specific, which means you may need to adjust and learn the probate process for your state and market. The course content may provide a solid foundation, but you will likely have to adapt and refine your knowledge to align with your region's specific requirements.
Less Focus on Probate, More Focus on Marketing
An important aspect to consider before enrolling in the certified probate real estate specialist course is the emphasis on marketing rather than deepening your legal understanding. The course primarily teaches you how to effectively market yourself and your services to the probate market. Although you will learn about the probate process, the goal is to use this knowledge to attract more probate clients and sell their homes.
If you are looking for an in-depth exploration of the legal aspects of probate, this course may not meet your expectations. However, if your primary focus is mastering marketing techniques to excel in the probate market, this course can be a valuable investment.
Cost of MTI CPRES Course
The cost of the MTI CPRES course varies, but it is commonly listed at $997. However, I discovered a webpage that offers the course for $397. Keep in mind that this information is accurate as of December 2021. Additionally, during Black Friday and Cyber Monday, MTI Education offered a sale price of $297.

Ultimately, whether or not this course is worth the investment depends on your individual circumstances. You need to evaluate the cost-benefit ratio and consider the following factors:
If you are new to probate and do not know where to start
If you struggle with marketing or have been unsuccessful in marketing to probate leads
If you prefer having all the relevant content in one place rather than searching the internet for scattered information
If you are committed to your professional and personal growth and see this course as an investment in self-development
Even with the mentioned cons, purchasing the course at a discounted price can be a viable option. Investing in marketing strategies is often one of the wisest choices you can make for your real estate career and business.
I personally have not obtained the probate real estate specialist certification. By the time I discovered this program, I had already gathered the necessary knowledge through a DIY approach. I browsed the web for articles and videos and gradually built my own system.
How This Review Was Conducted
It is important to note that I have not personally purchased or completed this program. All the information provided in this review is based on thorough research conducted to assess the course's content. While I cannot speak to the quality of the program or its efficacy in teaching lead generation from probate cases, I can provide insight into what I discovered during my investigation.
Alternatives
If the MTI CPRES course does not resonate with you, consider exploring "Probate Mastery" by Chad Corbett at Magnus Optum Project. This course presents an alternative approach to probate education. You can read our review of the Probate Mastery course for more information.
Conclusion
Purchasing the MTI CPRES course may prove worthwhile, especially if you find yourself at a loss regarding probate or struggle with marketing. It offers a comprehensive marketing system and sales process that can significantly benefit your career. Investing in marketing is often a prudent decision for real estate professionals.
Keep in mind that this course may be most valuable for those new to probate, looking for a convenient and structured learning experience. While the certification may lack NAR accreditation and state specificity, it can still enhance your resume and reputation with clients. Ultimately, the decision to enroll should be based on your specific needs and a cost-benefit analysis.