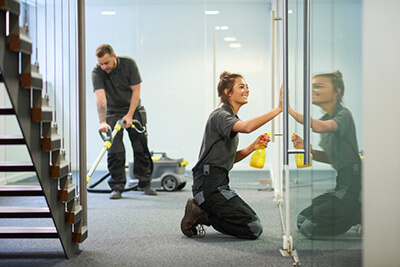 Everyone desires a clean environment, whether it's homes, grocery stores, offices, hospitals, or airports. Surprisingly, around 73% of Americans despise cleaning. In fact, 51% find cleaning their homes for holiday guests to be one of the most stressful events of the year. Are you one of the rare individuals who actually enjoy cleaning? If so, you might be searching for cleaning franchises for sale.
For those unfazed by the work, investing in a cleaning franchise can be an excellent way to meet the needs of busy individuals or those who prefer professionals. Not only does this work bring the satisfaction of helping others, but it also begs the question: how much can you earn from a cleaning franchise? And is the owner able to keep all the profits? Let's delve into the profitability of cleaning franchises and explore some of the best franchises currently available.
How Lucrative is Owning a Cleaning Franchise?
According to ZipRecruiter, the average salary for a cleaning franchise owner in the United States exceeds $80,000. However, this figure represents the owner's salary alone. A large portion of the revenue generated by a cleaning franchise is reinvested into the business to cover employee salaries, inventory expenses, marketing costs (including fees paid to the parent company), and more.
To determine the true profitability of these franchises, it's crucial to examine their profit margins. Profit margin refers to the difference between the cost of running the business and the revenue it generates. If expenses exceed income, a negative margin is incurred. Opting for a franchise rather than starting your own cleaning business can offer a significant competitive advantage when it comes to cost management. The bulk buying power and the support of an established brand that customers trust help maximize the profit margin while minimizing expenses.
Similar to any small business, a 7-10% profit margin is considered healthy for a cleaning franchise. If you're interested, you can learn how to calculate profit margins through this link.
How Much Does it Cost to Invest in a Cleaning Franchise?
Investing in a cleaning franchise typically requires a minimum cash availability ranging from $20,000 to $100,000, along with additional fees and costs. Several factors influence the startup costs for your cleaning business, such as choosing between a commercial cleaning franchise or a residential cleaning franchise.
Residential vs Commercial Cleaning Business
Both residential and commercial cleaning businesses can charge $40 or more per hour for their services. As the business expands, employing additional cleaners leads to increased revenue. However, the payment process differs between residential and commercial cleaning services. Residential cleaners are often paid based on the job or daily basis, while commercial cleaners typically operate on monthly or annual contracts and retainers with their clients. Owning a franchise is advantageous in terms of billing and payment practices as the franchisor usually provides tried-and-tested methods for both residential and commercial cleaning services.
The Best Cleaning Franchise to Own
The ideal cleaning franchise is one that aligns with your preferences in terms of products and customer service approach. Some cleaning franchises cater to a wide range of cleaning needs, while others specialize in specific areas. Here are a few notable cleaning franchises available:
The Maids: Ranked first by Entrepreneur Magazine for residential cleaning franchises, The Maids employ a proprietary 22 Step Cleaning Process to ensure consistent service delivery. The brand's strong relationships with market leaders like Mr. Clean and Amazon Home Services enable franchise owners to compete like major businesses.

Home Clean Heroes: Committed to shattering the stereotypes associated with traditional "maid" franchises, Home Clean Heroes emphasizes that each franchisee is in business for themselves but not by themselves. Owners can rely on an on-call support staff for assistance and guidance. The company also donates a portion of its earnings to first responders with every home cleaned.

milliCare Floor and Textile Care: Dedicated exclusively to commercial floors, milliCare has a reputable name in facility management, spanning over 25 years. The franchise's global network includes connections with Fortune 500 companies, government agencies, hospitals, airports, hotels, and various other commercial facilities.

ChemDry Carpet Cleaning: Established in 1977, ChemDry utilizes a patented method called Hot Carbonating Extraction to remove dirt, dust, oil, and other contaminants from carpets. Their exceptional service has earned them the prestigious Carpet and Rug Institute Seal of Approval. Moreover, their organic cleaner ensures minimal exposure to harmful chemicals and soaps within carpets, and their process guarantees faster drying times compared to other cleaning companies.
Explore More Cleaning Franchises for Sale
The aforementioned franchises are just a few examples of the cleaning franchises that could be a perfect fit for you, your community, and your goals. For a comprehensive list of cleaning and maintenance franchises, sorted by geographical location and investment level, visit Garrity Traina.
Remember, investing in a cleaning franchise not only offers financial rewards but also provides an opportunity to make a significant impact. So, if you're passionate about cleaning and helping others, owning a cleaning franchise might be the right choice for you.
---
Note: The content of this article is based on Garrity Traina's expertise and research in the cleaning franchise industry. Garrity Traina is a trusted name in the field, providing guidance and assistance to individuals interested in owning a cleaning franchise.