If you enjoy bringing your low-speed vehicle along when you travel, then you'll definitely want to hear all about our favorite street legal golf carts.
Yes, that's right! Not just any cart can be taken out on the road. There are certain requirements that need to be met before you can venture out. But don't worry, we've compiled a list of vehicles that have everything you need to hit the road without breaking any rules. Whether you're looking to transport people or cargo, prefer electric or gas, we're confident you'll find a suitable vehicle on this list.
So, let's buckle up and get started!
About Street Legal Golf Carts
Not every buggy is allowed to take a spin down the avenue. To drive a golf cart on a public road, it needs to be street legal. It's essential to have seatbelts for safety and to avoid costly tickets. Additionally, a windshield, mirrors, and lights are necessary before you can hit the open road.
In the United States, most states require golf carts to be capable of reaching speeds of around 20 miles per hour and weighing less than 3,000 pounds. Depending on your location, you may also need a driver's license or a special permit to operate a low-speed vehicle. It's important to note that every state has its own guidelines for low-speed vehicle use, so be sure to check with your local DMV for specific regulations in your area.
Keep in mind that some states don't allow low-speed vehicles on the road, such as Hawaii, Delaware, and Missouri. Similarly, driving a low-speed vehicle on public roads in Maryland and Rhode Island is illegal. States like Idaho require low-speed vehicles to be registered and fully insured. To avoid a citation, it's crucial to check your local ordinances before venturing out.
Pro Tip: Have you ever wondered if city golf courses are considered public land? We took a closer look to find out!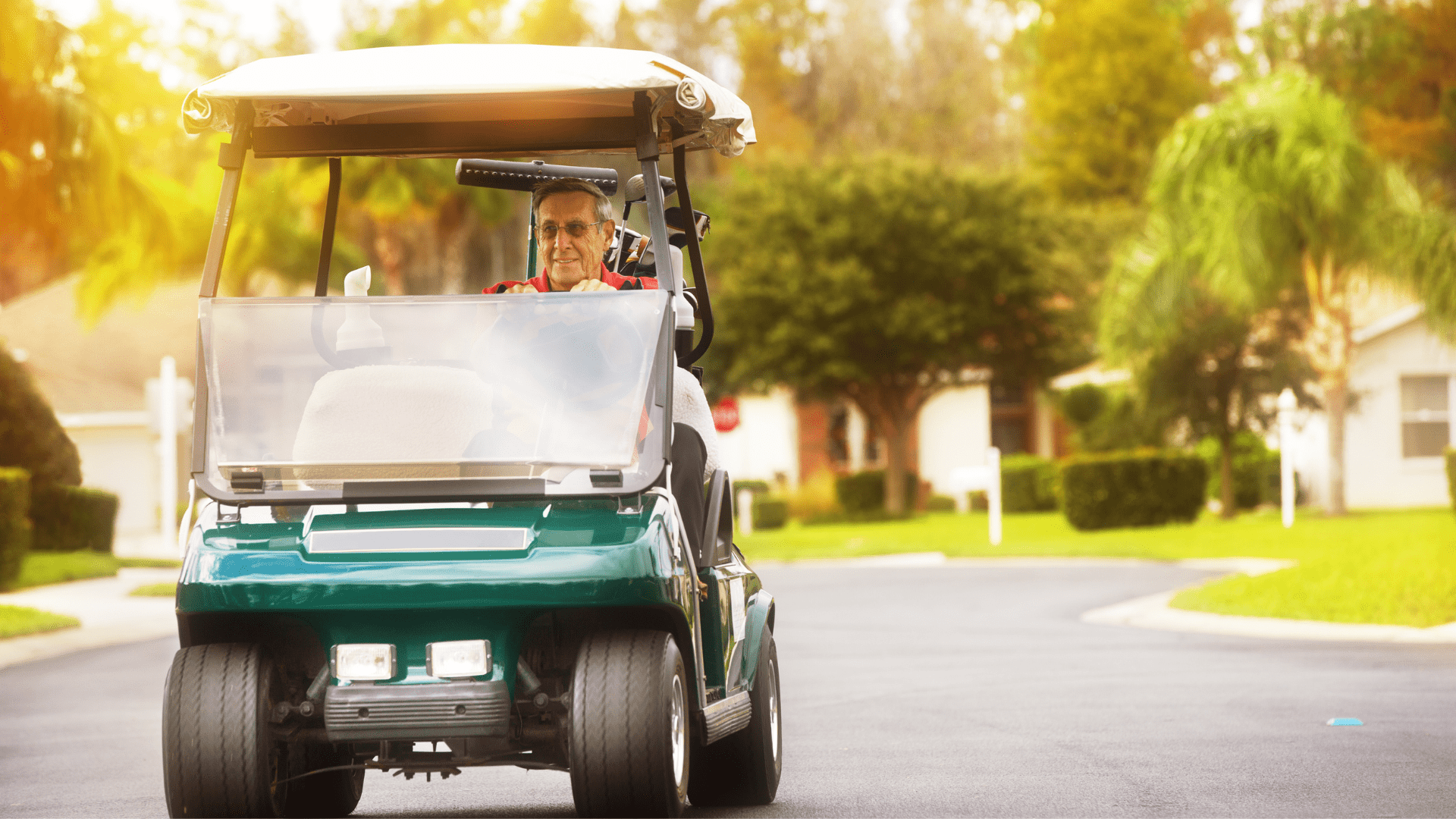 Not all golf carts are street legal, but there are some models that allow you to cruise down the street in style.
#1 Polaris GEM E2
With a starting price of approximately $12,000, the Polaris GEM E2 is a top-of-the-line street legal golf cart. This vehicle can be fully customized for an additional cost. You have the option to upgrade to larger wheels or add bumpers. If you need some extra room, there's even an optional cargo bag available.
The electric vehicle can travel nearly 100 miles before needing to be recharged and has a top speed of 25 miles per hour. It comes equipped with three-point seatbelts to ensure your safety. The E2 also includes a windshield and headlights, allowing it to be driven on most public roads.
Owners of this vehicle love the spacious legroom it offers. They also appreciate that the GEM can be easily fully customized on the company's website. However, if you plan to shuttle more than two people around, you might want to consider another option.
#2 Club Car Villager 2+2
This four-seat golf car features two forward-facing seats and two rear-facing seats, making it easy to transport up to four people. We love the durable, rust-proof frame and high-quality windshield that come standard with the Club Car Villager.
The buggy has everything you need for a legal low-speed vehicle. It comes equipped with a horn, mirrors, and seatbelts. The Villager also includes a turn signal, headlights, and even a license plate holder. You can use the USB charging port to power your devices on the go, and when you reach your destination, recharge it using the onboard charger.
The electric, street legal golf car can reach speeds of up to 23 miles per hour and travel over 30 miles before needing to be recharged. Club Car does not sell their vehicles directly to consumers, so there is no set MSRP.
#3 Yamaha Drive 2 Quietech EFI
For almost 40 years, Yamaha has been manufacturing motors in the U.S. They have gained a reputation for producing quality vehicles at affordable prices. Like the Club Car, you must purchase one of these carts from a retailer. The price may vary depending on the dealership, so it's wise to shop around for a good deal.
The Drive 2 can seat four people, but the back seats can be folded down if you prefer to have cargo space. Owners rave about the sunroof and the array of available colors. It also has all the necessary features for a street legal golf car, including LED headlights.
Surprisingly, this gas-powered engine is only one decibel louder than most electric carts. It has an impressive range of over 250 miles per tank and can reach speeds of up to 19 miles per hour. While most low-speed vehicles can go faster, the Drive 2 Quietech will take you much further.
#4 E-Z-GO Express S6
The E-Z-GO Express S6 offers ample legroom and can comfortably seat up to six people. This is the perfect cart if you want to accommodate the whole family. You'll find extra storage in the dashboard and under the floorboards. From cupholders to USB ports, this vehicle has everything you need to ensure a comfortable ride.
Most importantly, the E-Z-GO Express has been designed with safety in mind. It comes with airbags and seatbelts. The advanced steering system, similar to that of a regular car, makes driving a breeze. It can reach speeds of up to 17 miles per hour and, depending on the options you choose, can travel over 200 miles before needing to be refueled.
You can purchase this cart with a lithium battery for an MSRP of $17,269 or with a gas-powered engine for $14,919. At first glance, the price may seem steep, but it's important to note that all 6-seat golf carts tend to be a little pricey. However, few offer the amenities found in the E-Z-GO Express.
#5 Star EV Sirius 2+2
The Star EV Sirius 2+2 first hit the market in 2017 and quickly became one of the most popular low-speed vehicles. Little has changed in recent years, which speaks to its reliability. As the name suggests, the vehicle has two forward-facing and two rear-facing seats.
This cart has everything you need to be street-legal and more. Just like a car, the blinkers turn off automatically after completing a turn. The Sirius comes equipped with a reverse beeper, backup camera, bright lights, horn, and hydraulic brakes, ensuring your safety.
With a full charge, you can take this electric buggy over 60 miles, reaching a top speed of 25 miles per hour. The MSRP for this vehicle is $15,295, and it usually comes with a four-year warranty. If you're looking for a street legal golf car that offers utmost reliability, you should definitely take a serious look at the Star EV Sirius 2+2.
Hit the Road in Your Street Legal Golf Car
Golf carts can be quite an investment. They make navigating around the neighborhood fast and easy, and they're incredibly useful for hauling things while RVing. However, it's important to choose the one that best suits your specific needs. Low-speed vehicles come in various sizes, drive at different speeds, and may use gas or electricity.
Whatever features you decide on, we hope that you'll be happy and safe in your new street legal golf car!
Discover the Best Free Camping Across the USA
To be honest with you, we absolutely hate paying for camping. There are so many incredible free campsites in America that offer complete privacy.
You should definitely give it a try!
As a matter of fact, these free campsites belong to you. Every time you pay federal taxes, you're contributing to the preservation of these lands.
Become a FREE CAMPING INSIDER and join the 100,000 campers who love scoring the best sites!
We'll send you the 50 Best Free Campsites in the USA (one per state). Access the list by submitting your email below: